Content Management System (CMS) Development:
Today, the majority of websites are powered by content management systems (CMS), which enable website modification without writing a single line of code.
If you want a new, powerful website online but can't wait to find and pay more for a customized site. Then you should be on the lookout for these options.
Content Management System (CMS) divides a website into three basic parts.
Content:
CMS contains images, text, videos, or other contents that are kept apart from the website's code and design. You can add any type of content with a single click to as many pages as you like without altering the website's essential code. Simply dragging and dropping takes care of it.
Code:
A CMS stores the essential code that enables your website to function without regard to the content. This makes it simple for you to update your website's security and add new features without having to change its structure or content. It's as easy as clicking a button to update an app.
Layout:
Layout: A CMS comes with themes that you can use to alter the appearance of your website. With just one click, you can change the design of your website without affecting any of the content or plugins on it because they operate independently from the website's code and content.
Which CMS is best for your Website? (Infographic)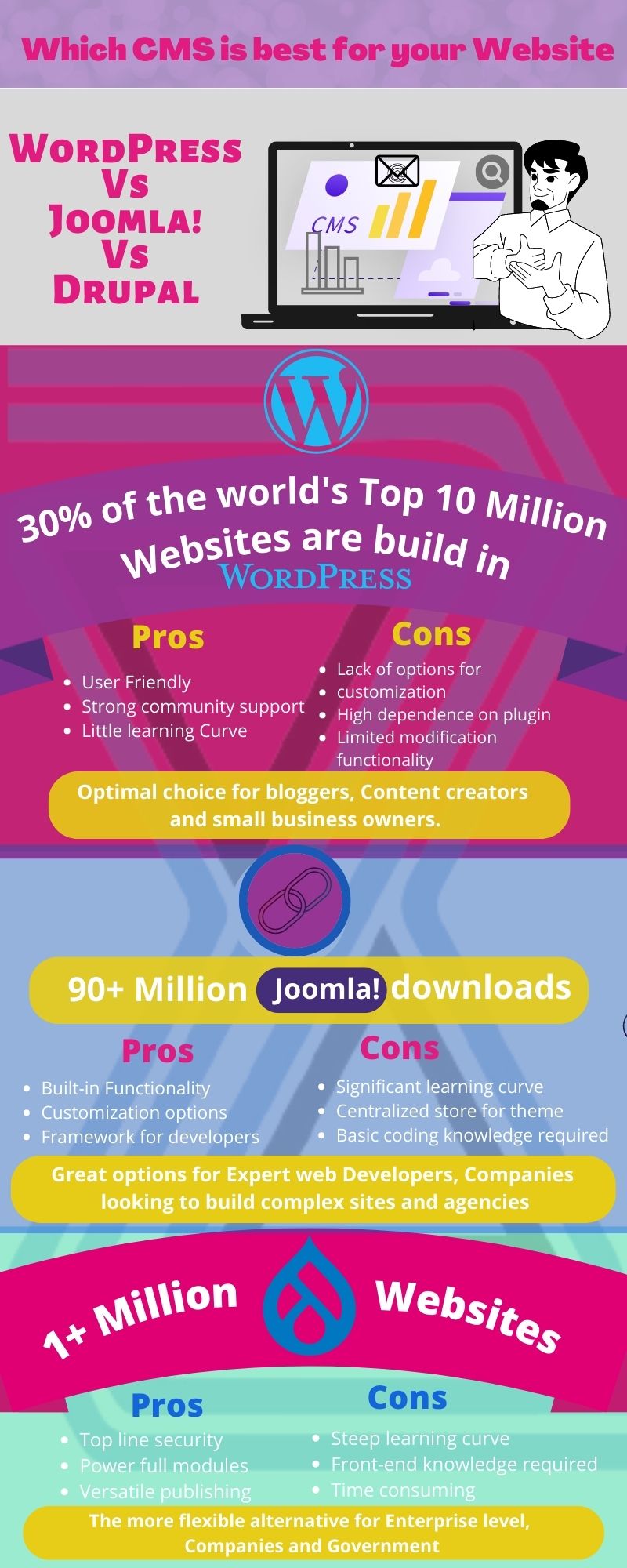 WordPress:
Today, 30% of the top 10 million websites on the internet are powered by WordPress, which was first developed.
Bloggers, content producers, and small business owners all adore it. However, big businesses and publishers like CNN, Time, and Spotify also use WordPress for their content requirements.
Joomla!
Joomla is a free open-source content management system (CMS) that allows you to create robust online applications. Its extensibility and ease of use are just two of the features that have helped make Joomla the most widely used Website software.
Drupal:
Drupal is a free and open-source content management system that is developed and maintained by users. It serves as the back-end system for a variety of websites, including corporate, political, and personal blogs, all over the world. Although Drupal provides a complex programming interface for developers, basic website installation and administration don't require any programming knowledge. It functions on any software platform that can support a web server and a database for storing data and configurations.